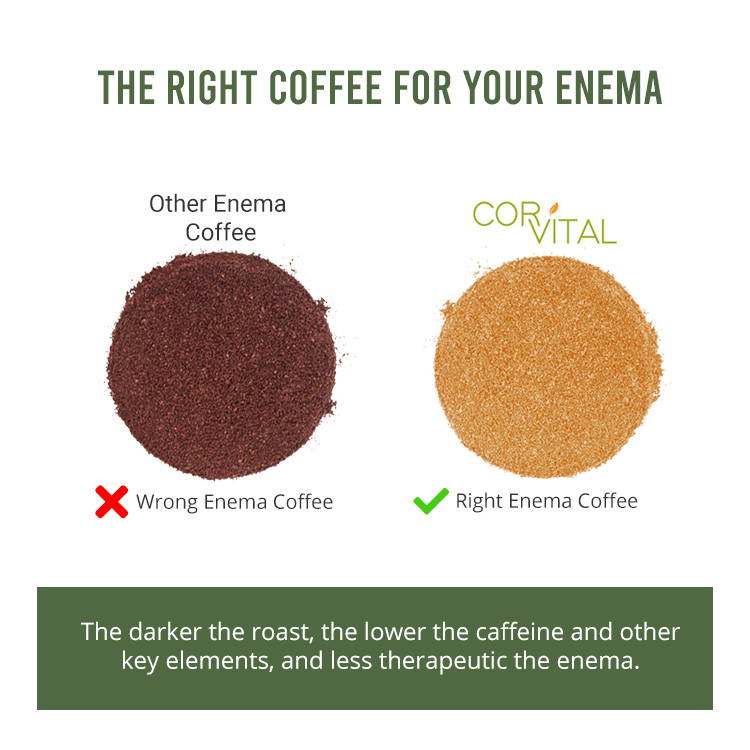 ✅ SPECIALLY MADE FOR COFFEE ENEMAS - Our green coffee enema is lightly roasted and finely ground as recommended by Gerson to ensure the optimal level of caffeine and palmitic acid is preserved, providing the best results for coffee enemas. Cor-Vital's enema coffee is certified organic, made from specialty grade coffee beans that are picked by independent farmers.
✅ 100% USDA ORGANIC - Our enema coffee is certified organic to ensure no toxic chemical pesticides or fertilizers have been used. Shade grown, our green coffee enema is 100% clean with no fungus or mold, making it the safest and cleanest choice.
✅ EFFECTIVE FOR COFFEE ENEMA - Our goal is to help make it easier for you to have the most effective enema with the best enema coffee available. Our organic enema coffee won't make you feel bloated and has no side effects. Our Gerson coffee enema is organic and will help increase your energy and support healthy body function.
✅ EASY TO FOLLOW INSTRUCTIONS - Our enema kit includes easy to follow instructions on how to use, set it up and cleaning up afterwards. We also have a video you can find below this page to walk you through the set up process. It will only take you a few minutes to set up your coffee enema kit. Just add your enema coffee and you're good to go!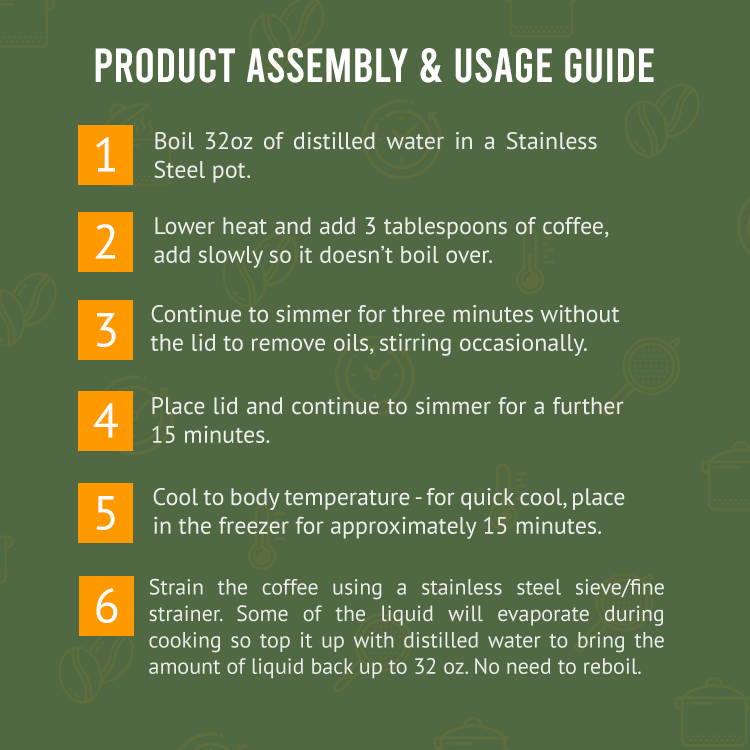 How You Can Benefit From Cor-Vital Coffee Enema
Helps Cleanse
Boosts Energy
Reduces Bloating
Removes Unwanted Waste
Healthier Looking Skin
PRODUCT ASSEMBLY & USAGE GUIDE
Learn how to make the perfect coffee enema by following our step by step guide!
"I have been doing organic coffee enemas for over a year now. I first started everyday for the first 30 days to flush my system. Now I maintain with two to three times per week and only use this coffee. The purity and the quality of Cor-Vital coffee is unmatched!"
Wendy M.
"The product quality is awesome. It cleanses and provides the full release I was looking for at home. It's true what they say "If you take care of your gut, your body will take care of you!""
Kim S.
"As advertised! At first, the lighter color of the blend surprised me. Later to find out that Cor-Vital researched and found a bean with higher Palmitic Acid... which is the stuff you're looking for when it comes to Coffee Enemas. I used it today and feel AMAZING! Thanks Cor-Vital!"
Joey H.
A monthly subscription means you'll automatically receive your Cor-Vital Coffee Enema each month, with no interruption to your routine.
Each pack allows you to do your routine, so you'll be positively covered, day in, day out. Order once and you're set for a healthy future.
You can pause, change your delivery date or frequency, or cancel your subscription online at ANY time.